These are some shots of the bike pretty much as it arrived. The only missing bits were the mufflers, battery, and the seat cover, as far as I can tell.
Work has since commenced on the strip down, and I have gotten as far as removing the engine. Dismantling the front forks is next, and then an assessment of what is salvageable and what isn't will commence.
This is the Flash with its tank and pipes removed. Essentially how I got it. Bike has been crudely brush painted tn at some point, but you can see many components in their original beige.
Toolbox and rear suspension plunger on right side. Frame may have an interesting little bend in it on this side, just beneath box, in vertical plane only.
You can see what I'm going to call the grab rail mounted above the plunger unit on this side. There is another picture of the chain guard, which is really in poor shape. The long bolt emerging just next to the wire beneath the seat and the strap on the lower frame may point to sidecar use at some point.
Looks like a bicycle without the tank on, eh? Not sure how original the twist grip is on the right, the left item is a Doherty. The button in the center of the handlebars is of interest, I think it may be the horn, but why there?
The tank was painted this handsome shade of matte black at some point. It's relatively dent free, though it obviously is going to need some chroming and tinkering. Do not know whether it leaks or not.
In the background are two mufflers which came with the bike, but neither is the correct item, and they don't match!
Everything looks original here, though the wheel is probably due to be replaced. Tire is an English Michelin.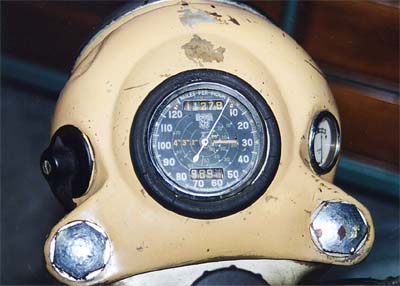 Lick o' paint, lick o' paint, that's all she needs, squire…reading that amp gauge will be amusing when under way.
This all came apart fairly easily. I'm a bit concerned about the groove in the casing next to the BSA rifles…it's as deep as they are, and I'm not convinced it will come out.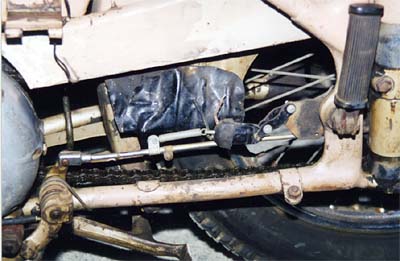 As you can see, the chain guard is nicely mangled. It is also broken at its front mounting. The brake light switch is also strictly unoriginal, and the brake rod has a well-used bend in it. Some work to be done here.
This is all pleasantly intact and dent-free. The light lens is pretty faded, but other wise everything seems OK.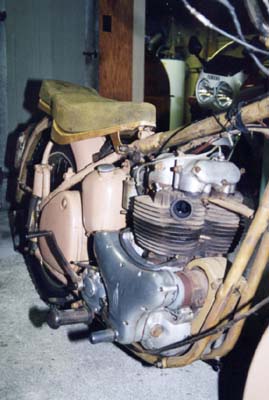 Nothing too exceptional to note here, except the intact fins on cylinder barrel and head, a nice bonus…
My next update will probably be when I have completed the strip-down and have come to some conclusions regarding what needs to be replaced vs. what can be restored.
Total $$$ this entry:
$1000 (purchase price)
  100 (customs duty)
-----
$1100
Time spent:
About twelve hours to partially strip, working at leisurely pace.