Sorry for the very long delay in getting anything further up here. Recently I finally got my cycle parts out of storage, and that allowed me to take them to my painter. He did a bang-up job, though I'm sure the cost is quite appalling to some of you. But so was the condition of some of the pieces!
The biggest challenge is the fasteners. I want to use originals, and have been cleaning up and plating those as I find them. However, a lot of them are just plain shot, and the replacements you can get these days are expensive and sometimes only a gross approximation of what was there. But I'm trying. I'm also caving a bit, and using new ones in many places…all of the front fender fasteners will have to be replaced, for example.
I've been plating the parts myself with a kit from Caswell Plating. It works well, but only if you're absolutely scrupulous about prepping the parts, something which I try to do, but often fall short of. Short of bead blasting, there is little you can do to make sure the part is "perfect," and on old corroded and pitted parts, all of that will show, though it will at least be silver in color.
Here's some shots of how it's coming together:
Right side, from rear. This number plate was absolutely munched, as was the toolbox. The metal workers who restored these pieces did a fabulous job. That's my elderly '63 MGB to the left.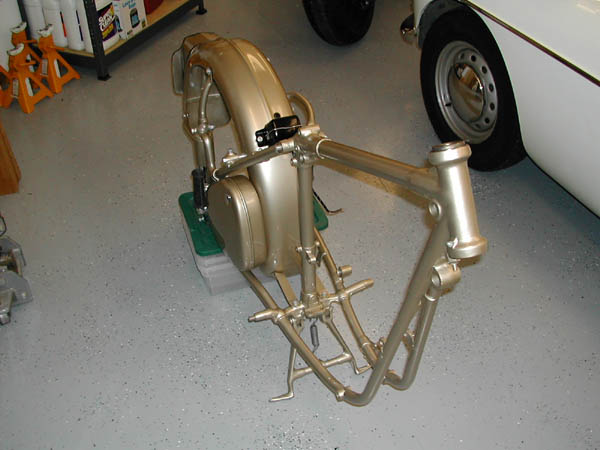 Right side again. I've run into a problem which will require a bit of creative machining to fix before the forks can be mounted. The new bearing cups have the race cut about a millimeter shallower than the originals, and this meanings the triple clamps are 2mm too far apart, which means that nothing fits properly. I'm going to have the bottom clamp machined to take up this extra distance.
Left side, rear. I'm waiting on a new lens for the tail lamp. The repro plunger chrome cups fit fairly poorly in one case and required a bit of judicious attention, which will probably mean prematurely failure of the chrome…sigh. It will all look good for about five minutes, shortly before it's started for the first time.
This is the small space I work out of. The bike in front of the MG is a '95 Triumph Daytona, which, sadly, hasn't been ridden much in the past year as I've been too busy! You can see it acts as a bit of a shelf from time to time.
Running expense list:
    $4,600 (previous entry total)
    ------
     1,500  Paint
       300  Miscellaneous cycle fasteners, brake switch, reflector...
    ======
    $6,400
Running time clock*:
hours   78 (previous entry total)
      ----
        30 (misc.)
      ====
       108 (total to date)
*I work at a leisurely pace. It's pretty damn approximate, too.