What have I been doing for the past nine months? Not much on the BSA. But I finally have the engine back.
But first some thoughts on spares. I put a big order in originally with a BSA specialist for a batch of stuff–some of it was decent, but much of it is pretty crummy in quality and fit. Mind, a lot of stuff I've bought out of suppliers in this country hasn't been very good, either. But it's a bit distressing to buy something, spend quite a bit for the piece, and then find it's, at best, a mediocre copy of the real thing. Ah, well.
As you can see, the engine is looking great and it's finally in the frame. Progress has been made beyond the current pix, but once again I find myself waiting for parts to arrive. If I restore another bike this old or older, I am going to spend some serious time looking over all of the fasteners–they're by far the hardest thing to replicate and replace.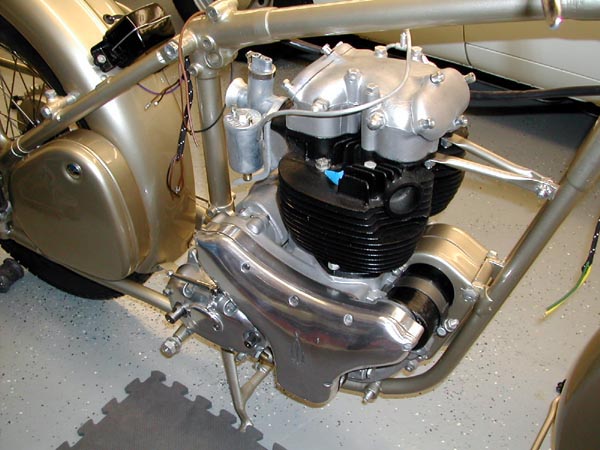 Firmly bolted in. Since this photo, I have the chain on, the chain guard in place, and a few other things done. I'll post some more pictures very soon.
Running expense list:
    $6,980 (previous entry total)
    ------
       100  Cad plating (mediocre to awful quality)
        70  Chrome plating of original hand controls 
            (excellent quality--Show Quality Metal Finishing, Seattle)
       150  Painting of parts I forgot in the original batch
       500  Misc. parts
     2,000  Engine and magneto rebuild (approximate)
    ======
    $9,800
Running time clock:
hours  135 (previous entry total)
      ----
        40 (misc.)
      ====
       175 (total to date)